I took this quiz and answered that I would have published the result on my blog, so here it is: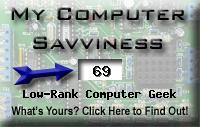 I initially thought I would have been a Super-geek, but while answering I realized that I'm not THAT much a geek… maybe I lost some of my geekness in the years.. Especially the questions about "what are you doing at 3am". 😀
enjoy the test. Takes just a few minutes. Save your body from an extra coffee and take this test instead.